Training Academy Drake Medox
Training is one of the most important means of learning and skill development in a health professional's life and at Drake Medox we place great value on our staff who deliver our services.
Although our team is well educated and qualified, knowledge and learning need to be constant to ensure our teams are UpToDate with the latest developments, care practices, and health innovations.
It is important to us for our employees to grow both professionally and personally. This is why Drake Medox has created its very own Drake Medox Training Academy! The Academy allows us to further support and upskill our disability support workers and clinical nursing team in different areas of complex care and disability support.


The academy runs throughout the year, with different sessions scheduled and delivered by our experienced Clinical Nurse Coordinators. Courses are offered as an opportunity to upskill or refresh your knowledge. Some of the subjects covered include:
PEG (percutaneous endoscopic gastrostomy)
Medication
Autonomic Dysreflxia
Tracheostomy & Airway
Epilepsy Management

Bowel Care for SCI (Spinal cord injury)
Infection Control
SPC (Suprapubic Cystostomy)
Mealtime & Severe Dysphagia Management
The courses are delivered virtually with some components requiring a practical or short theory assessment. Our teams are encouraged to attend one session each quarter and the session dates and times are shared 3 months in advance, so our team has plenty of time to schedule their training.
The great news is that the Medox Training Academy is paid on-the-job training. This means all of our disability support workers and clinical nursing teams are paid when they attend a session.
Why Join Our Talent Network?
At Drake Medox, we post great jobs every day on our website. By joining our Talent Network, you can customise your job preferences and be the first to receive any new jobs.     
Drake Medox Champion of the Month
Drake Medox is committed to delivering an outstanding service in health and community support.
A big part of our success comes from the staff we employ. Drake Medox has recently introduced the Medox Champion of the Month program, which rewards our staff for going above and beyond in supporting our clients.

The program is designed to recognise individuals who consistently demonstrate exemplary and outstanding commitment to service. Each recipient receives an e-gift card from Drake Medox to show our appreciation, along with our Champion of the Month Certificate. This is just another way we reward and acknowledge our fantastic staff.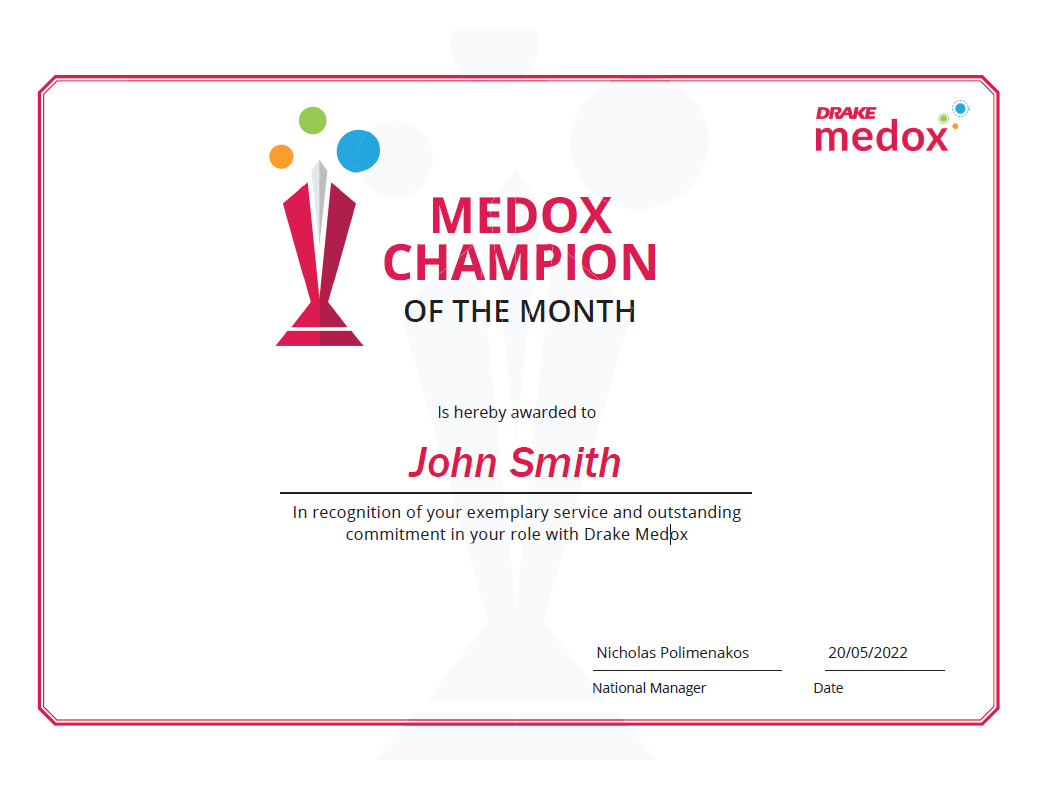 What Do Our Candidates Say?

"I would like to thank you for the very high standard of support that continues to be and has been provided to my daughter over the past four years.
My daughter is 22 years old, her disabilities (including Global Learning Delay and severe Verbal Dyspraxia) affect her ability to communicate. Drake Medox's provision of support workers for community access on a weekly basis has helped to improve her quality of life and continued growth beyond the home environment.
Stability and flexibility of staff in relation to her care have fulfilled an important role and contributed positively to the whole family. We feel very lucky to know our loved one is in trusted care."
- Jodi (client's mother)
"I currently use Drake Medox for personal care support. They've been very helpful! It's also extremely easy to get in touch with the organisation. No improvements come to mind. I would absolutely recommend them!"
- Client
"It's always a consistent service with productive staff. Since January 2016, it's been a good journey and service with them!" - Client
"They send carers to support my family member. I think they are good people. They take my family member out, and to the gym after their accident. They are good when I call and need to change anything, they're helpful. So far everything that I ask they do."  - Client - Fervent
"I have 24/7 support workers and they're all great. I'm there to get more independence and doing lots of cooking and cleaning. They're really good. All the staff are very friendly and helpful. The routine is good, I get to know who is coming in next." - Client - Barney
As a direct carer working for Drake Medox has been a positive experience. All the team in the Melbourne office are welcoming with a clear positive vision for each of their clients to have a high standard level of support. Directly working under Jack whom is the Client Relationship Consultant, has been nothing short of professionalism towards staff & individuals, clear communication, with such a passion for his job, very positive attitude & approach. Good company to work for with a variety of locations & flexibility of hours. - Candidate - Lauren
"I have worked with Drake Medox Canberra as a disability support worker for roughly over 6 months now. Working at Drake is a relaxed environment and you are supported by the management 24/7 if you need help, have any questions or queries. The management/staff are approachable and very supportive. They have flexible working hours which works out great for me as a mum who has to juggle both work and family! They also try and match me with clients that they know I will get on well with. The weekly pay is a bonus. I would highly recommend working for Drake Medox!"
- Client – Chiedza Chogah
"If I could give them 20 stars I would! They go above and beyond the call of duty where others have failed. They give me the will to live and have made it possible for me to keep living at home knowing that they're there to support me every day!" - Client – Beverly Pound