Why Work with Us?
Drake Medox is one of the leading names in health and community care in Australia with a network of offices across the country.
Our broad service offering in nursing, disability, community and allied health sees us with great roles available across a range of specialities, skill levels and qualifications. We can also offer you temporary, contract and permanent roles.
Our commitment to our staff goes way beyond just finding you a job. You'll find our friendly consultants are experienced, with extensive industry knowledge and will take the time to help you find the role you're looking for. These are the type of roles we recruit for:
• Registered Nurses in the Community
• Registered Nurses in Hospitals (ICU / Midwives/ Theatre)
• Enrolled Nurses and EEN's
• Disability Support Workers
• Assistants In Nursing
• Directors of Nursing
• Case Managers
• Occupational Therapists
• Discharge Planners
• NDIS Coordinators
• Group Home Managers
• Disability Team Leaders
• Social Workers
• Physios
Why Join Our Talent Network?
At Drake Medox, we post great jobs every day on our website. By joining our Talent Network, you can customise your job preferences and be the first to receive any new jobs.     
Drake Medox Contractor of the Quarter Awards
Drake Medox is committed to delivering an outstanding service in health and community support. A big part of our success comes from the staff we employ. Every quarter, a select number of staff is nominated to receive the Drake Medox Contractor of the Quarter Award. The award is designed to recognise individuals who consistently demonstrate exemplary and outstanding commitment to service. Each recipient receives a small personal gift from Drake Medox as a thank you, along with our Contractor of the Quarter Certificate. This is just another way we reward and acknowledge our fantastic staff.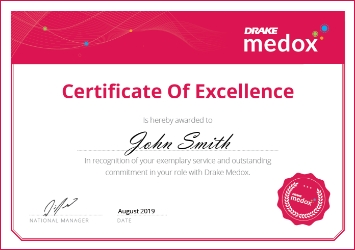 National and International Network
Drake Medox is a national and international recruiter, and often have a number of great jobs available across this vast country of ours. Whether you want to work in one of the capital cities, or want an outback adventure, we can help you find that perfect role.

We also have offices in London, Canada and New Zealand, which can be a great starting point for your international nursing adventure.
What Do Our Candidates Say?

"I have been working with Drake Medox for a while now and have to say they have been one of the most supporting, and flexible employers I have had the pleasure of working for. They have consistently been able to accommodate my study commitments, and if ever I have felt the need for further training they have been more than happy to provide this for me. Hours are great, and the work has always been very rewarding. Could not recommend Drake Medox more."
~ Bradley
"Drake Medox is a quality organisation that doesn't only look after the clients alone but also give a big support to the team members. Good allocation of shifts and nice coordinators and managers to help you out the entire process. Glad to be a part of the team." 
~ Damilola
"It has been my very best experience working with this company Why ? Very friendly and professional. Respectful and humble staff. Responsive and Trustworthy."
~ Milad
Amazing company, excellent management and great careers.
~ Elizabeth
"It's been a good experience working with Drake Medox. I am not only part of a great team but also have a supportive up line. Bringing out the best in a team is important because you want to provide the best care for your clients. Everyday your learning and putting into practice what you have studied and already know. I am thankful to be able to work here."
~ Senesi
"Working as a support worker for Drake has been fantastic. Over the years I have worked for many companies and Drake is the most supportive. They communicate extremely well, with getting you into work and in a set roster. Train so you go into shifts knowing what you do. Finally, they are just really nice and there for not only the clients but the carers as well."
~ Samantha